Study Tips For When You Lack Motivation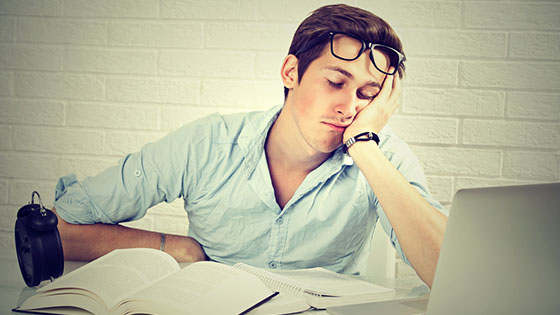 It can be easy to lack motivation when you're writing an essay or studying for an upcoming exam. After all, revising is nothing short of tedious and the thought of getting out, heading down to the pub with your friends is undeniably much more tempting. But at the end of the day, it has to be done - the reason you are at university in the first place is to do well in the subject you have taken.
Most students find that they lack motivation when it comes to studying especially if you have been doing it for the last 3 days straight. You're now at an all-time low and thinking of any excuse to put down the pen and close the books but listen we have put some of our best study guidelines together to help prompt you back on track.
Remove all distractions
Get rid of all those little distractions that will drive your mind somewhere other than your studies. The best thing you can do to boost motivation is to keep your phone out of sight, there's nothing more distracting than a buzzing, beeping phone going off every 2 minutes with the latest gossip or your friends organizing a future get together. The conversation is not going anywhere, whether you reply now or in a couple of hours it makes no difference. Sometimes you don't even need the beep or the buzz, you'll pick your phone up regardless and start pointlessly scrolling through your Facebook or Instagram page. Remember out of sight, out of mind! Get rid of anything that will tempt you. You'll really reap the benefits.
Make a to do list
Remember only you know what you are capable of accomplishing. Don't write a list as long as your arm because you are only setting yourself up for failure. Be realistic about it. Spread your work over the days you think this can be completed. Prioritize the most important tasks and work your way from there.
Time brackets
Setting yourself time brackets is important as it means you won't end up getting sucked into one task, only to neglect the other tasks on your list. It can be difficult at first to work to a set time, however remember in reflection you are only preparing yourself for when the big exam comes. This is a great useful habit to get into and only practice makes perfect. If you haven't fully completed something within the time scale you have given this can always be revisited once you have worked on every task. Just like at the end of an exam when you have time spare to flick back through the pages and add any extra details. 
Multi-tasking is a no
When it comes to work, you don't want your mind overloading with too much information. You want to be working at your very best when studying therefore by simply staying committed to one task at a time narrows your focus and allows you to give it your all. If you're jumping between tasks, you lack that dedication and it can result in less quality responses to the projects in hand. Always keep a pad in reachable distance so that if anything does spring to mind about a different project you can jot this down but continue concentrating on the task in front of you.
Put in place a reward system
Implementing your own rewards system can improve motivation. Any excuse to treat yourself if a good excuse, am I wrong?  Having something to look forward to inbetween tasks can be encouraging whether it's a quick episode of your favourite show on netflix or half of the big bar of chocolate sitting in your fridge.
Change up scenary
Don't let yourself go stir crazy sitting in your room all day. Changing up scenery can enhance the way you think and maybe bring new creative thoughts and ideas to your projects. Try going to the library or get a coffee and grab a table at your local coffee shop. When the suns out, take your laptop to the park and lay in the sun with a can of pop.