Customer Service Excellence Award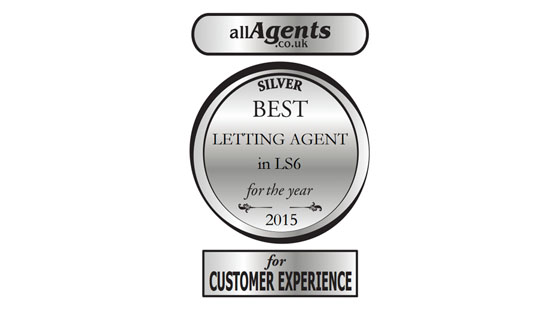 allAgents.co.uk is an annual competition organised by the Web reviewing site. It's aim is to recognise and award talented individual and team efforts in outstanding customer service and generate internet marketing exposure for the award winning landlord.
Here are some quotes from the nominations we received:
"Spencer Properties are very friendly and understanding company. The organisation makes sure everything is alright and our welfare generally. Overall I recommend Spencer Properties. I really enjoyed my stay in Leeds. Thanks.... ."
"I have been with Spencer's for the past 4 years and in all that time I have never had any problems with them. The property I rent is in good condition and I am very happy with the service. Spencer's have always helped me, and completed all maintenance issues within a reasonable timescale. A very happy tenant.... "
"I have lived in a Spencer Properties privately rented accommodation for a year. In this time I have found that Spencer's provide a really good service. They have listened to any concerns I have raised and addressed these quickly and efficiently. I've also found the maintenance staff really friendly and approachable. The accommodation itself was lovely- well-kept and well managed. This was a great experience for me, with a fuss-free way of renting my place to live...."
Gill Spencer, Director at Spencer Properties says: "Being awarded the Standard of Excellence in Customer Experience in the Lettings Agents in LS6 is a huge achievement and rewards the hard work we put into making Spencer Properties the best landlord in Leeds."